How to Properly Test the Speed of your Shopify Store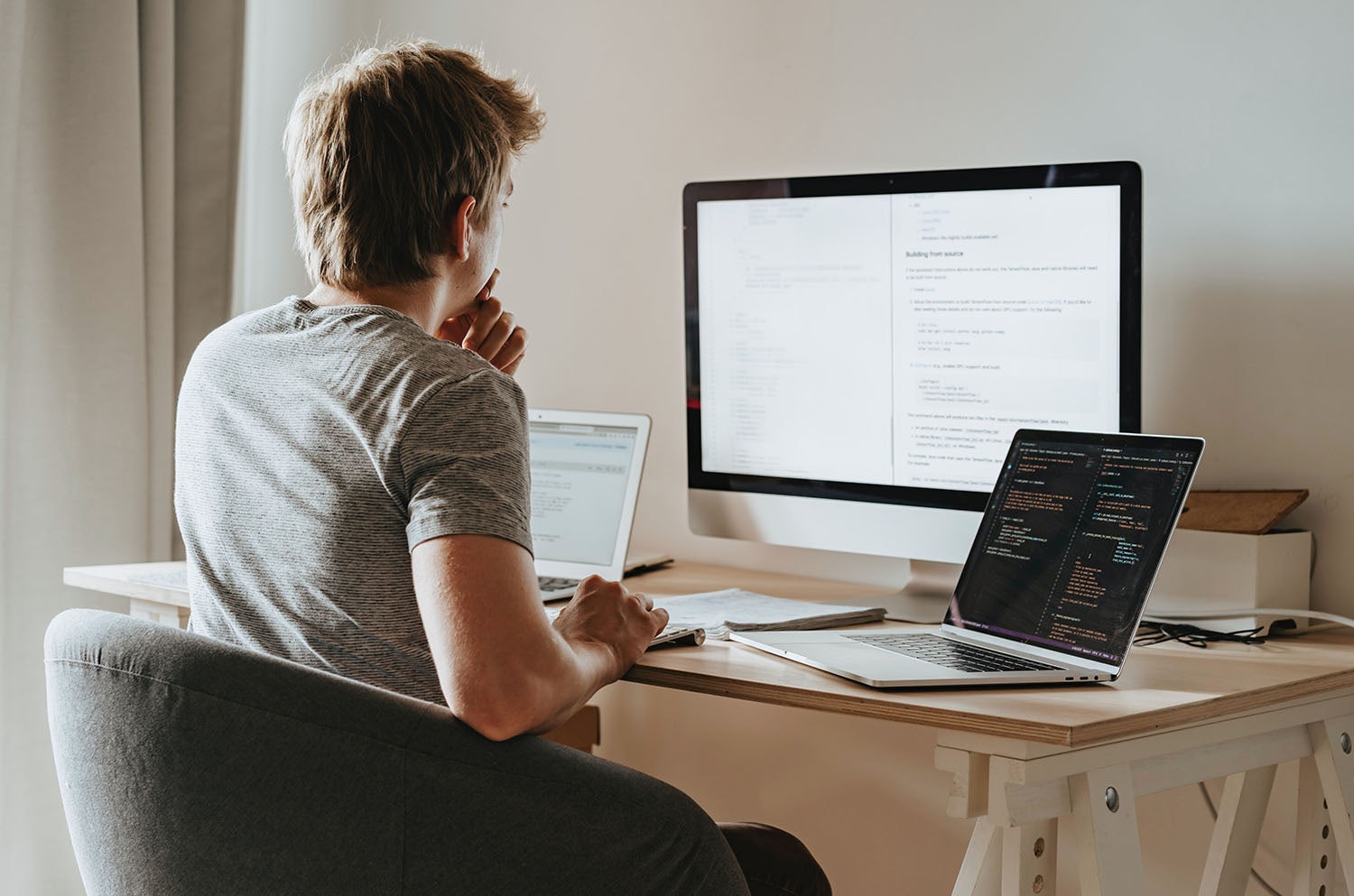 Why is website speed important?
As with all forms of digital marketing, website design and development is an ongoing battle of ensuring that your online presence is stronger than your immediate competition, and therefore more likely to be viewed by potential future customers of your business.
Speed tests serve as a great starting point for understanding how successfully your website is meeting these aims, and are an important method of getting a better understanding of how your website scores from a technical SEO (search engine optimisation) perspective.
Unlike content-driven SEO, technical SEO refers to the process of optimising a website to pass a series of technical checks predefined by popular search engines such as Google Search, that typically test a website on its page load times, responsiveness and accessibility scores.
Combined with a carefully-considered content strategy, the better a website scores for technical SEO, the further up a search engine's page rankings the website will appear.
From a conversion perspective, page speed really matters. A 2018 Google study determined that just a two-second longer wait for a web page to load increased the probability of a user abandoning their visit by 90%. By turning your attention to reducing page load times across your site, you're more likely to improve your website's conversion rate and generate more sales for your business.
There are real sustainability benefits to focusing on improving page speed too, as the faster a website loads, the less energy is consumed by both the hosting server and the device of the user visiting the site.
How do we test the speed of your Shopify store?
As passionate experts in fast but environmentally-conscious Shopify stores, our team of expert developers are always looking to strike the perfect balance between a website's technical performance metrics and its effectiveness in selling products.
We do this by shrinking scripts, compressing downloads, setting appropriate caching times, and only including elements that are there for a specific reason and ensuring that each of these elements is as optimised as possible.
We use a selection of testing tools in order to highlight areas of your website that can be more effectively optimised in order to improve the overall performance of your Shopify store.
These tools are tried and tested by thousands of website development agencies, establishing themselves as the primary analytics tools that developers utilise when analysing the performance scores of websites.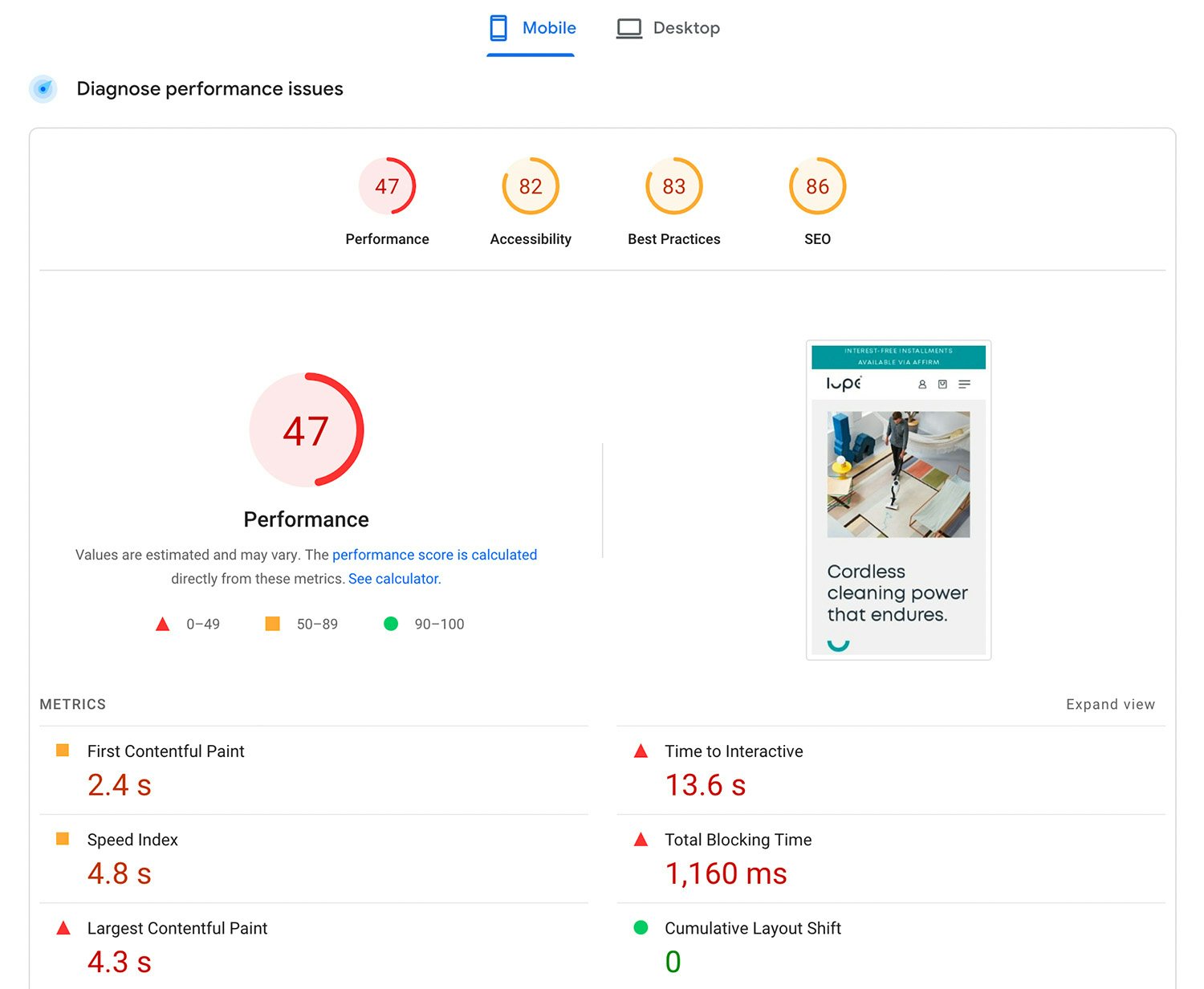 Google Lighthouse and PageSpeed Insights
Google provide two of the most popular testing tools for analysing the performance score of your Shopify website, Google Lighthouse and PageSpeed Insights.
By default, both of these tools provide insights and recommendations across the following key areas of all of the websites they analyse:
Initial page load
Time to interactive
Image format and sizing
Cumulative layout shift
Redundant code analysis
Total page requests
PageSpeed Insights is a browser-based tool that focuses specifically on performance scores at the individual page level, providing page-by-page recommendations that can be made in order to make meaningful improvements to the speed score of each page of your website.
Google Lighthouse is also a tool used for analysing the performance of webpages, but it provides a more comprehensive analysis and includes a wider range of metrics. It can be run as a Chrome browser extension and provides recommendations for improving performance, as well as insights into other aspects of the website's quality, such as accessibility, best practices, and SEO.
Alongside a focus on reducing page-load time, Google Lighthouse also provides recommendations for additional areas of improvement, including search engine optimisation (SEO) and image usage, both of which play a key role in determining the potential search engine ranking scores of your Shopify store.
One of the key differences between Google Lighthouse and PageSpeed Insights relates to the specific metrics that your website is tested against, alongside the level of detail listed in the recommendations that are provided to the user.
PageSpeed Insights is focused on analysing individual pages, Google Lighthouse instead provides an analysis of the entire website. This means that PageSpeed Insights is better suited for analysing specific pages and providing page-specific recommendations, while Google Lighthouse is better for getting a broad overview of the website and identifying overall trends and issues.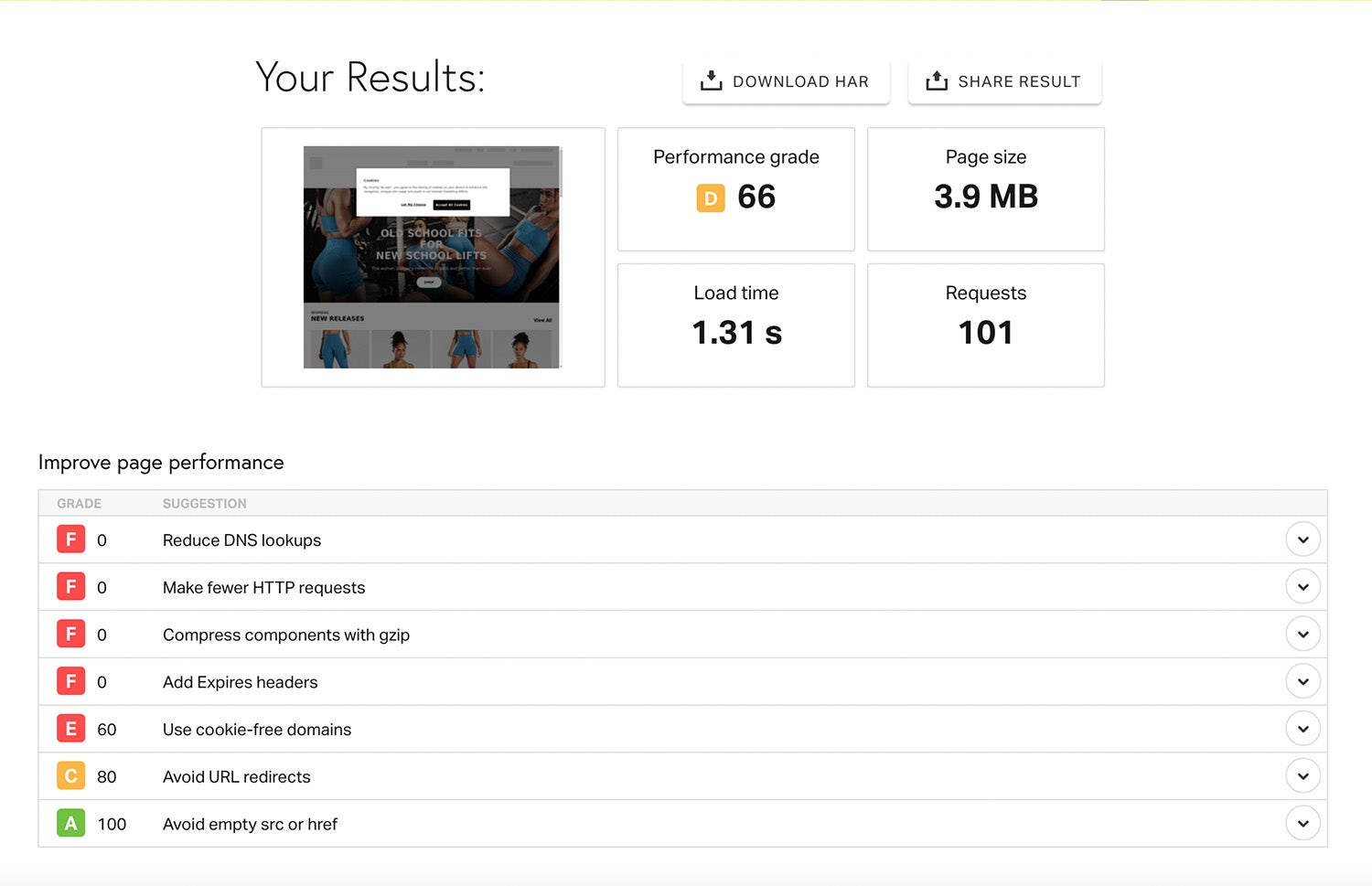 Pingdom
Alongside the tools provided by Google, we also benchmark all of our client's websites with Pingdom, a third-party analytics service that provides a unique insight into the weight of the websites it tests.
Unlike Google Lighthouse and PageSpeed Insights, Pingdom provides users with an overall, colour-coded website performance grade between A to F, alongside a simple selection of actionable steps that a user can take to improve their website's page speed.
For those users who may be unsure about what some of the more technical recommendations mean, Pingdom also provides an easy-to-understand explanation of each metric to guide less technically-minded website owners each step of the way.
One of the most useful features of Pingdom is the ability to break down a website's size by content type, allowing users to identify how much a website's use of image, video and page scripts contribute as individual percentages of a website's total page weight.
This then enables us to focus our attention on improving the key areas of your website that are likely to have the biggest impact on your overall page speed score.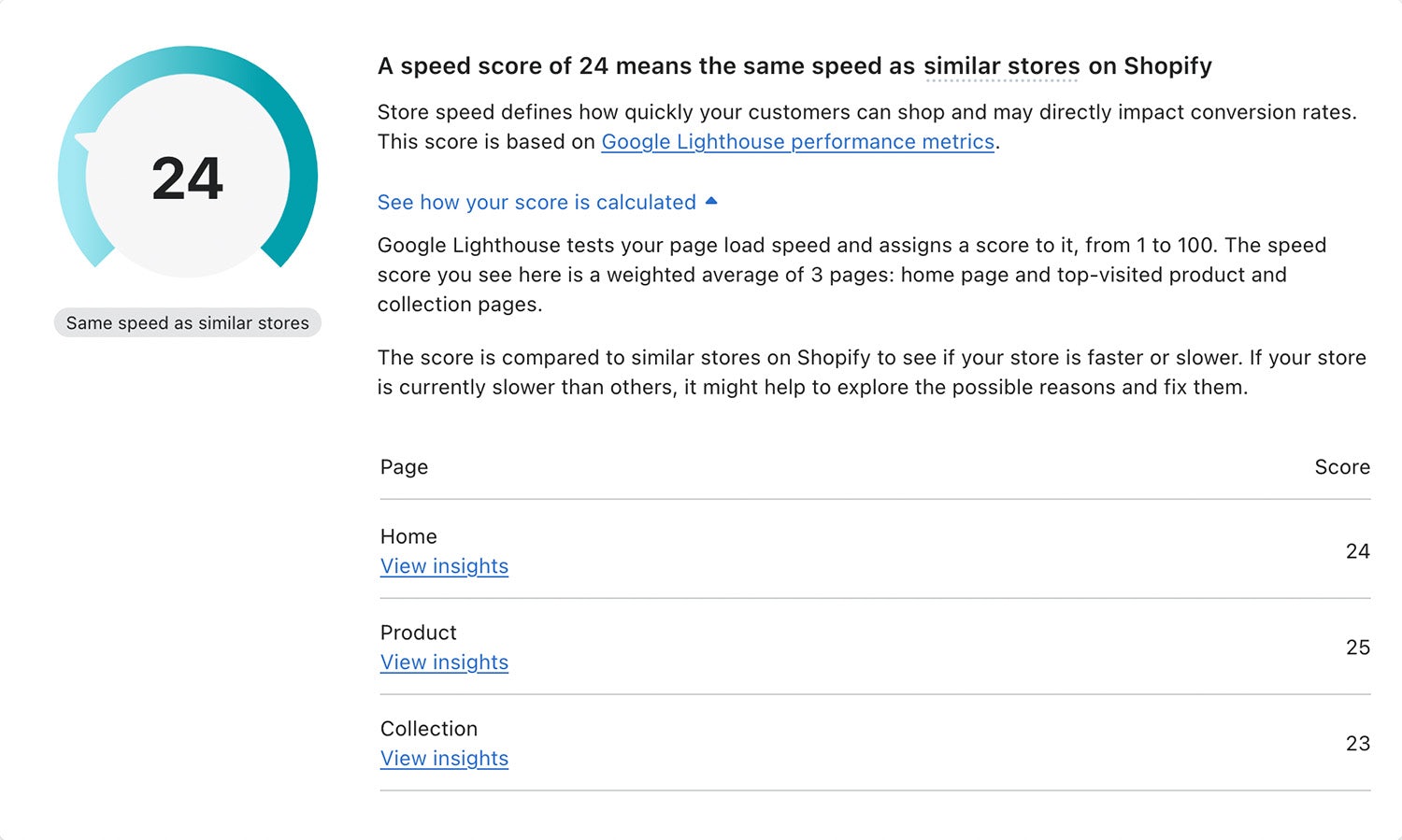 Shopify Theme Speed Score
While Shopify does include a version of speed testing built directly into their platform, their online store speed report simply uses Google Lighthouse to measure the speed of your store's currently active theme.
However, Shopify also includes a couple of additional metrics that help their customers get a better understanding of these numbers in context. These include information on how well your speed score compares to other Shopify stores, and how your page speed score has evolved over time.
For a more general overview of best practices on keeping page speeds to a minimum, Shopify helpfully list a selection of criteria that may be negatively affecting a website's speed score, including (but not limited to):
Apps
Themes
Third-party libraries and services
Analytic libraries
Custom font libraries
Complex or inefficient theme code
The file size and amount of images and videos utilised
Putting these benchmarks into perspective.
While keeping your Shopify page speeds down to a minimum is important, it's crucial to strike a balance between page speed and store functionality in order to ensure your customers are presented with a user experience that best suits their needs.
Different platforms have different limitations, and you can't always completely perfect both areas on functionality-driven platforms such as Shopify.
To help you avoid obsessing over page speed and losing focus of the things that matter most for your online store, we've put together a helpful list of considerations to keep in mind when analysing your website's page speed:
Take data from multiple sources
Scores often vary across sources, so it's important to take information from a wide range of testing tools and draw your own list of actions from the recommendations provided as a whole.
Some elements are worth the decrease in page speed
Some elements that have the largest negative impact on page speed may be more important to your website than fast loading times. For example, the website of an animator or videographer may include a large amount of content-heavy video elements across the website, but removing these elements are more likely to hamper the success of your website if potential clients aren't able to see a good selection of your projects and capabilities.
Some optimisations simply can't be made
Quite often, some elements that may be negatively affecting the page speed of your website may fall outside of a developer's control. For example, associated code libraries may be contributing quite heavily to the weight of your Shopify store, but as these are required in order for the platform to run, it isn't always possible to make any amendments to these elements.
To help reassure users of the platform concerned about page speed, Shopify's Help Centre have flagged the below areas as elements that will have a detrimental effect on your website's page speed but fall outside of manual control:
Your customer's device, network, and location
Shopify's own infrastructure
Content delivery network (CDN)
Your local browser cache
Server-side page cache
The assets inside the content_for_header Liquid object
Consider making more important improvements first
While page speed is an important metric, it is important to avoid focusing too heavily on these numbers. The development time and resources required to bring these numbers down can often be better spent improving different aspects of your website, including focusing on user experience or implementing additional functionality that may make it easier for your customers to purchase your products.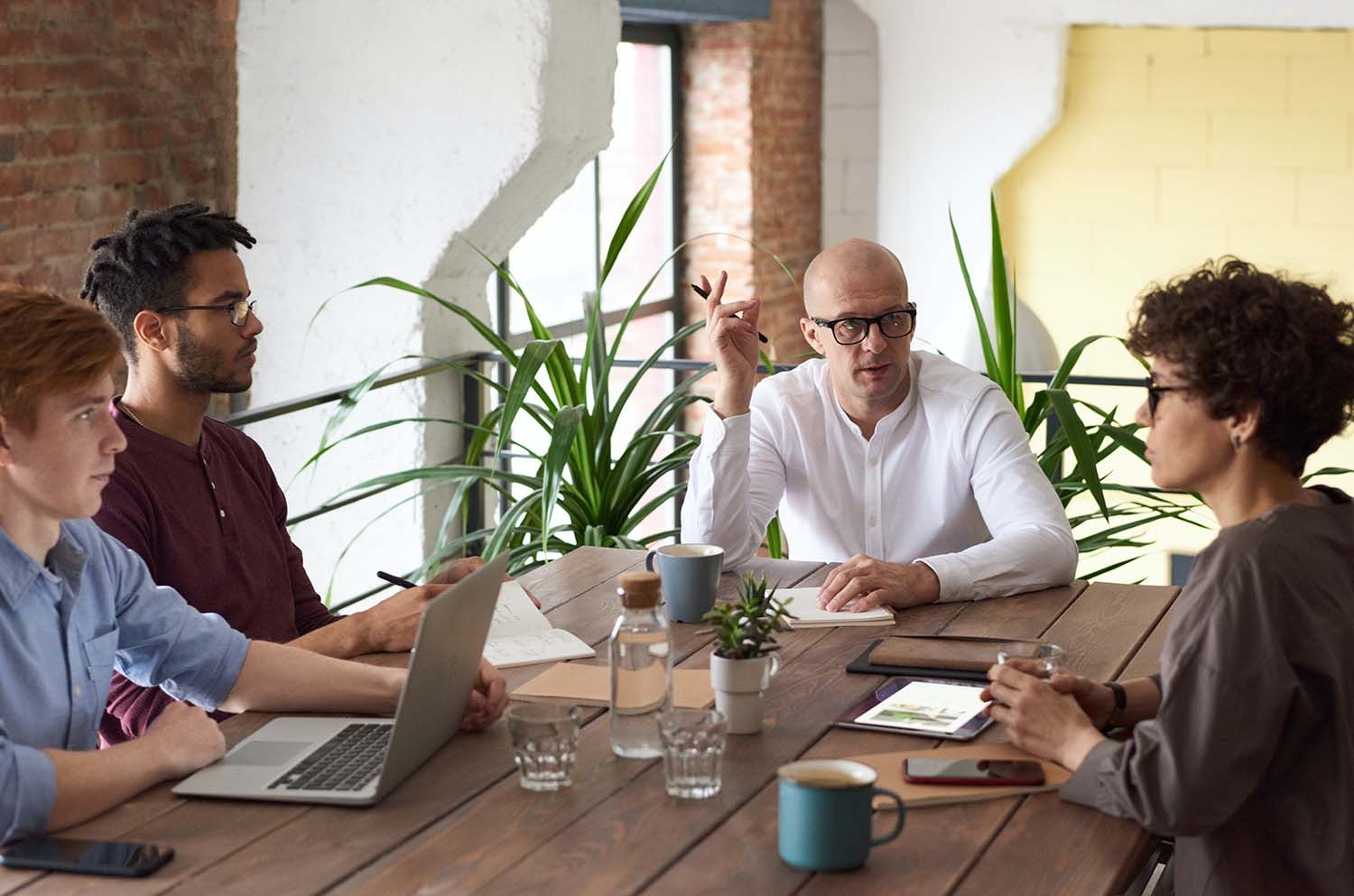 Get your FREE Shopify website audit today!
Looking to test the performance of your current Shopify store, or perhaps your current ecommerce platform simply isn't performing as well as it should be?
Here at Noughts & Ones, we've developed our own series of benchmarking criteria to examine the performance of all of our client's websites, tied in with our own Conscious Development™️ framework that enables us to code more responsibly and efficiently.
Using our combined experience in the ecommerce industry, we have the skillset needed to accurately test everything from written content and technical SEO right the way through to accessibility, mobile responsiveness, code structure, user experience and customer conversion.
Speak to our team of expert website designers and developers today to claim your free website audit and learn more about how your online store can work harder for you and your customers.