A collaborative build for an innovative electric motorcycle maker
Custom theme development
App development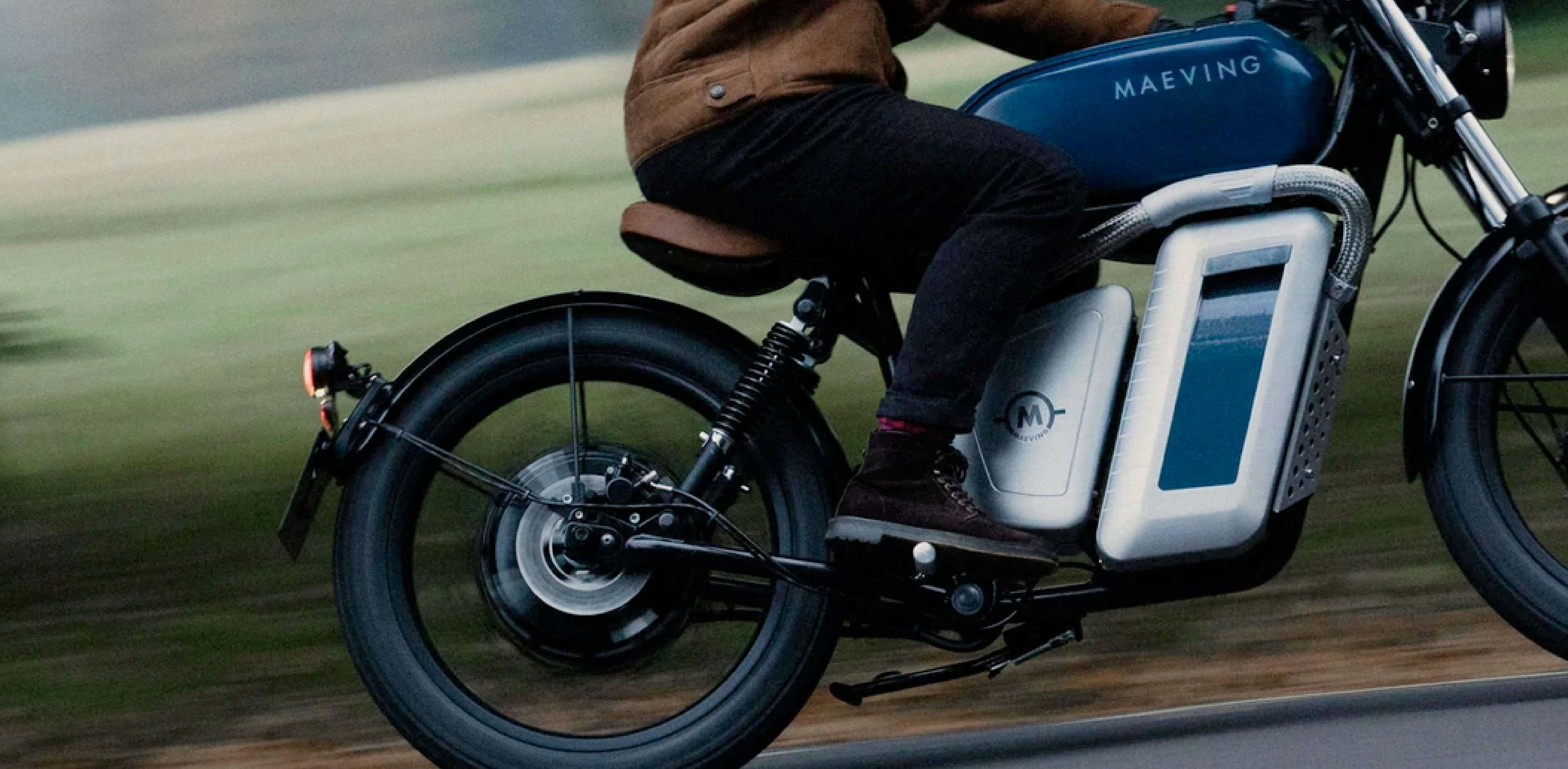 Maeving are revolutionising the future of urban travel with their electric motorcycles. With zero emissions and a removable battery which can be charged from any plug socket, we're sure you'll be seeing these everywhere very soon. The team behind Maeving hail from some of the best British motorcycle manufacturers and it really shows with their sleek design and progressive tech. 
They came to us with their Shopify store built (great job Budeoo 👋🇳🇱), looking for some custom features and pages to suit their hyper-focused go-to-market strategy. We put Giulia and Gemma on the case and are very pleased with how it turned out.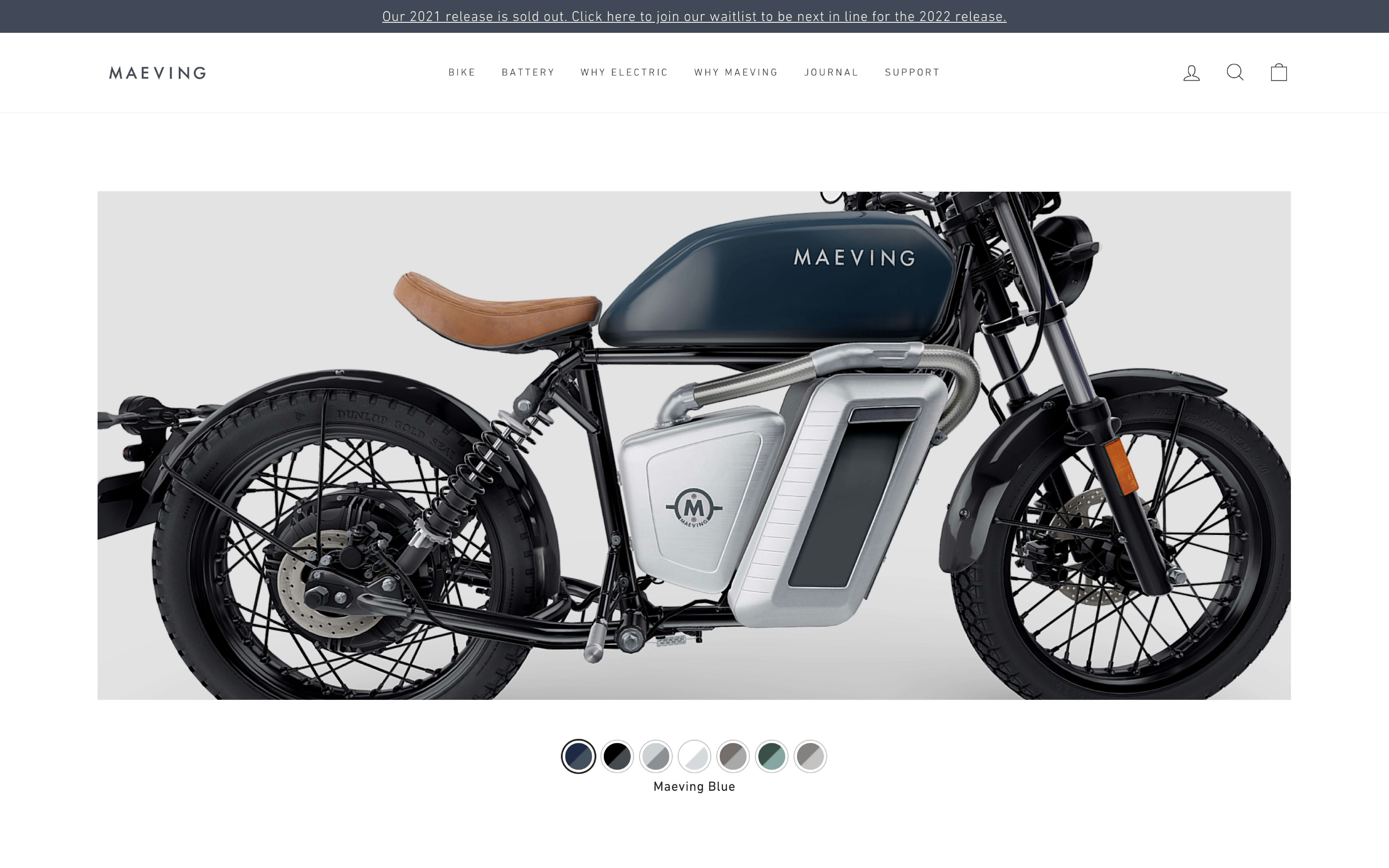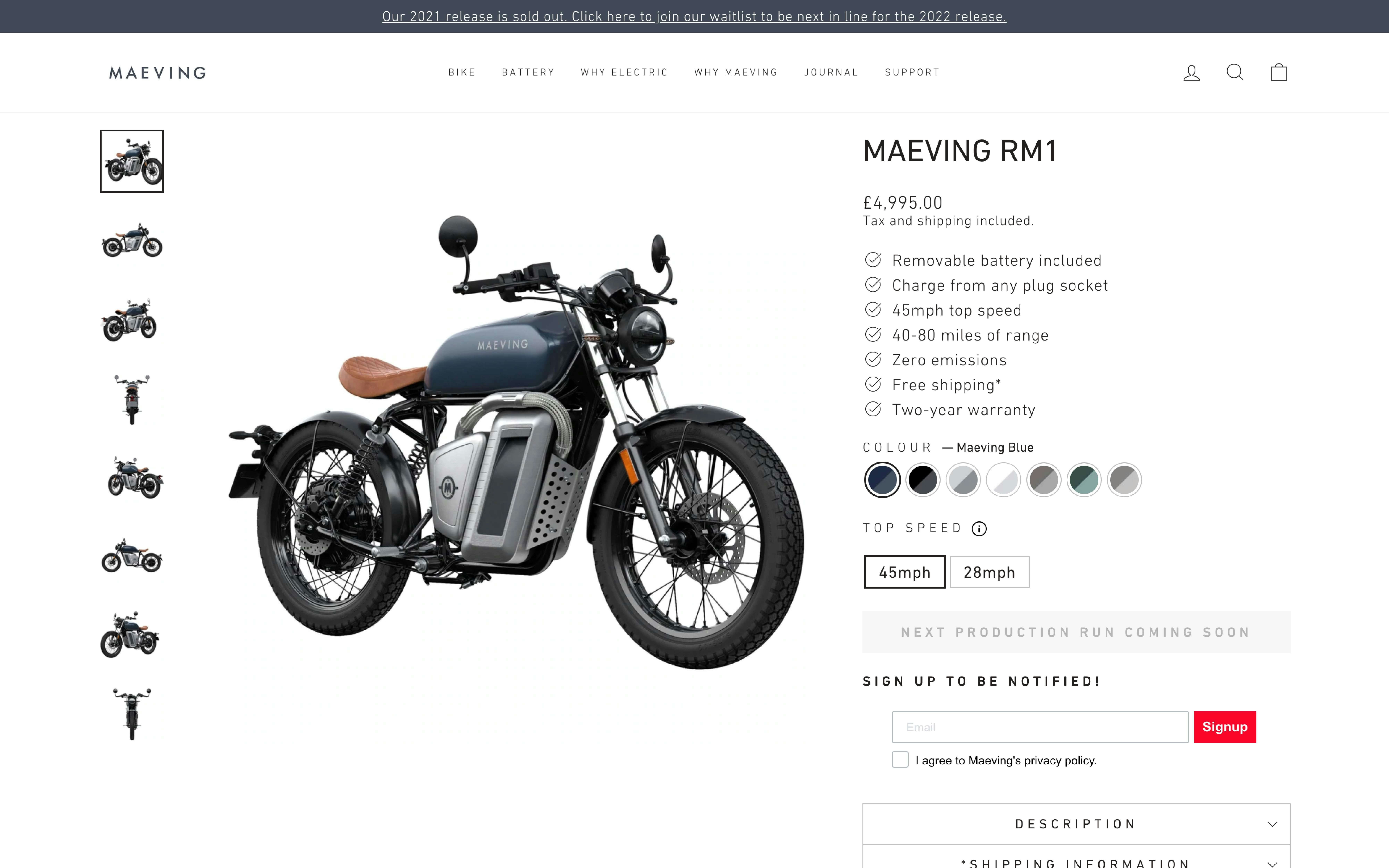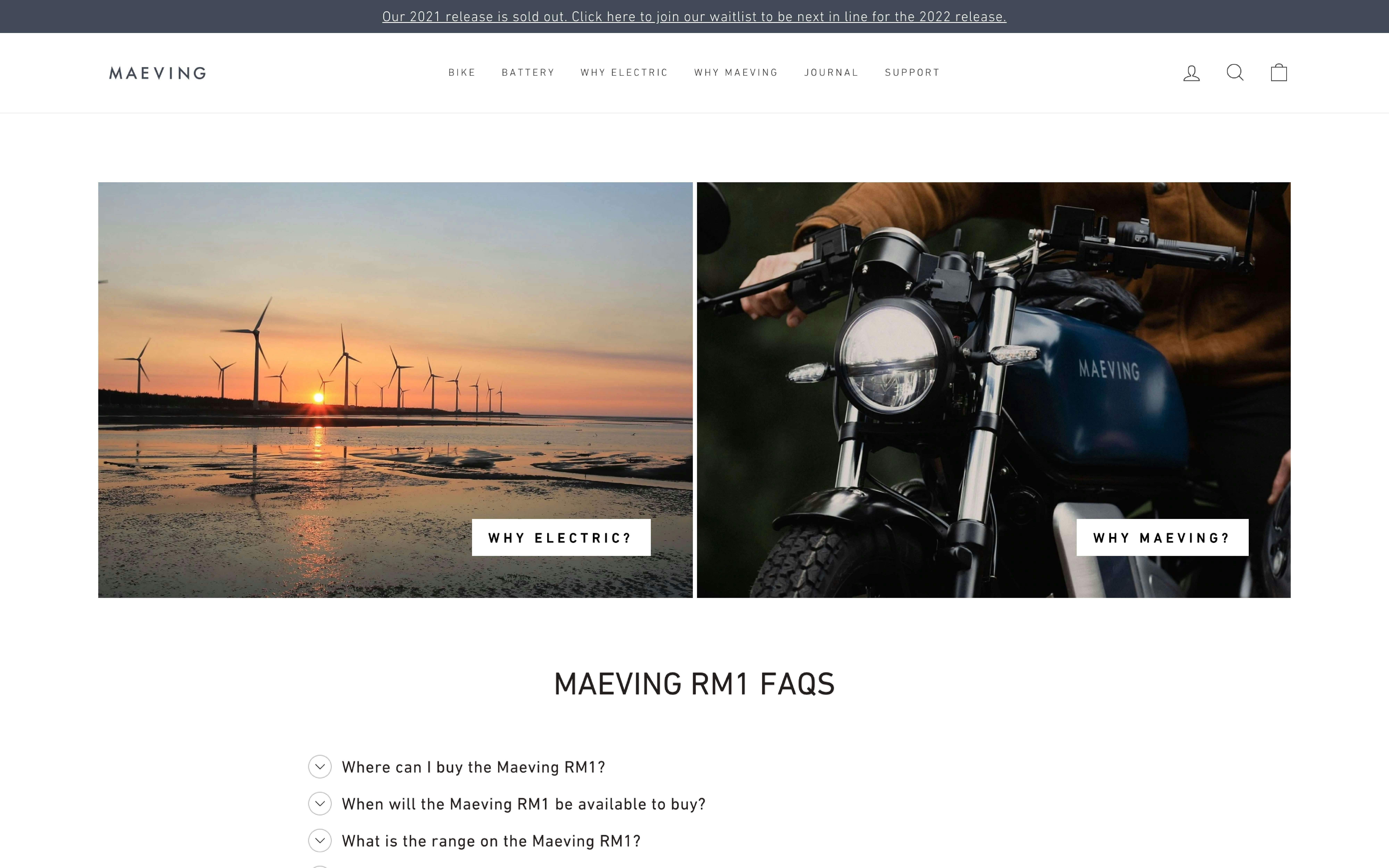 Here's what we did: 
This project was slightly different from our usual because the base Shopify store was already built. There was some initial work on setting up a pre-order and deposit page and a few other bits but our core focus was the development of custom features. These included the creation of an interactive finance calculator and app integration with Black Horse, specialists in car, motorcycle and caravan finance. 
We made a series of bespoke page templates for home and product pages that would allow Maeving to properly showcase their motorcycles with all the information required by customers to make an informed purchase decision. The templates included a product features list, add-on product integration, split-scroll sections, detailed product specs and an FAQs section. 
Through conversations with Maeving, we then decided to create an interactive finance calculator. It sits on the main bike product page. With a price point of up to £6,000, offering a hire purchase option is a sensible way to open up sales to a wider range of customers. With just a few details, potential customers can work out how much it'd cost them to purchase the bike through this finance option versus buying one outright. 
From there, we worked on the complex integration of a third party finance app. We managed the design and workflow of the customer payment journey for card, PayPal and finance. On the surface, this sounds relatively easy but with additional layers of card data security and compliance, it had us really scratching our heads at times!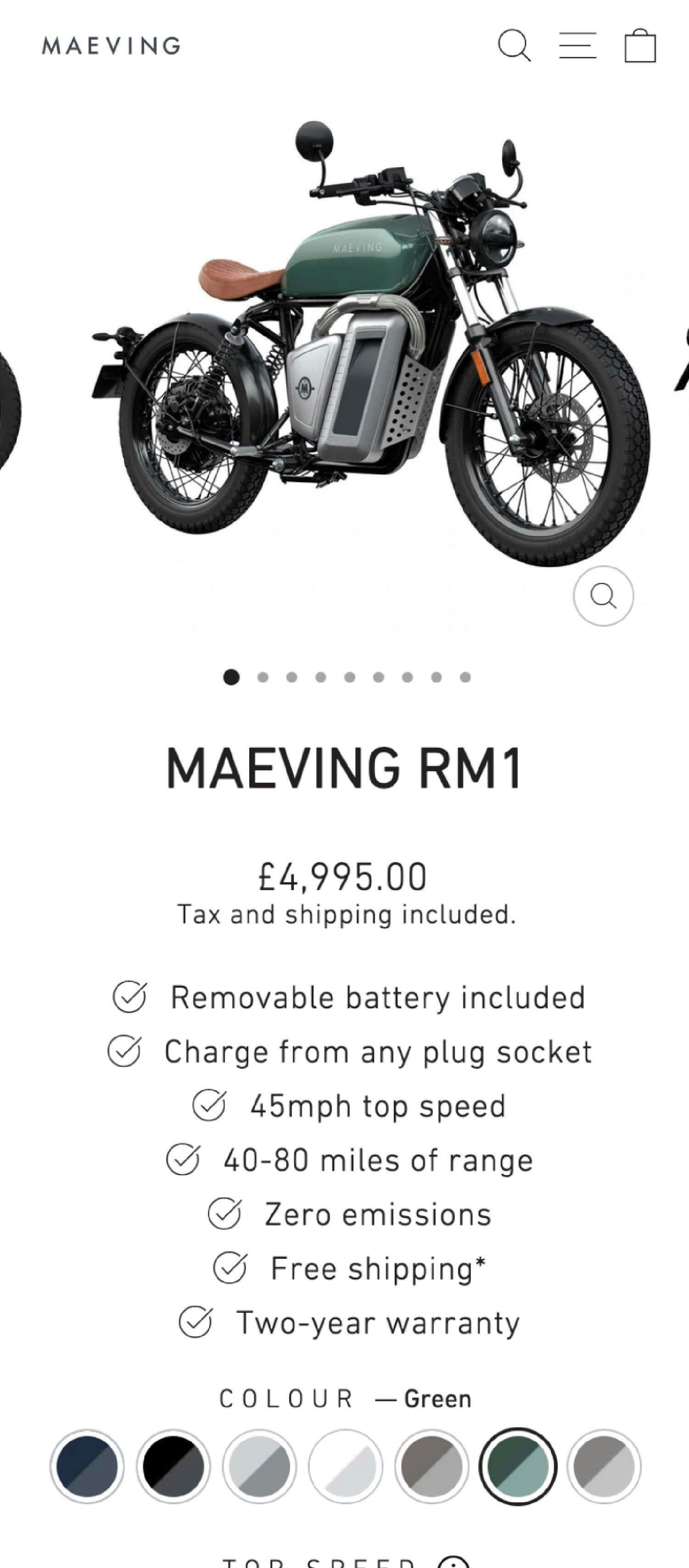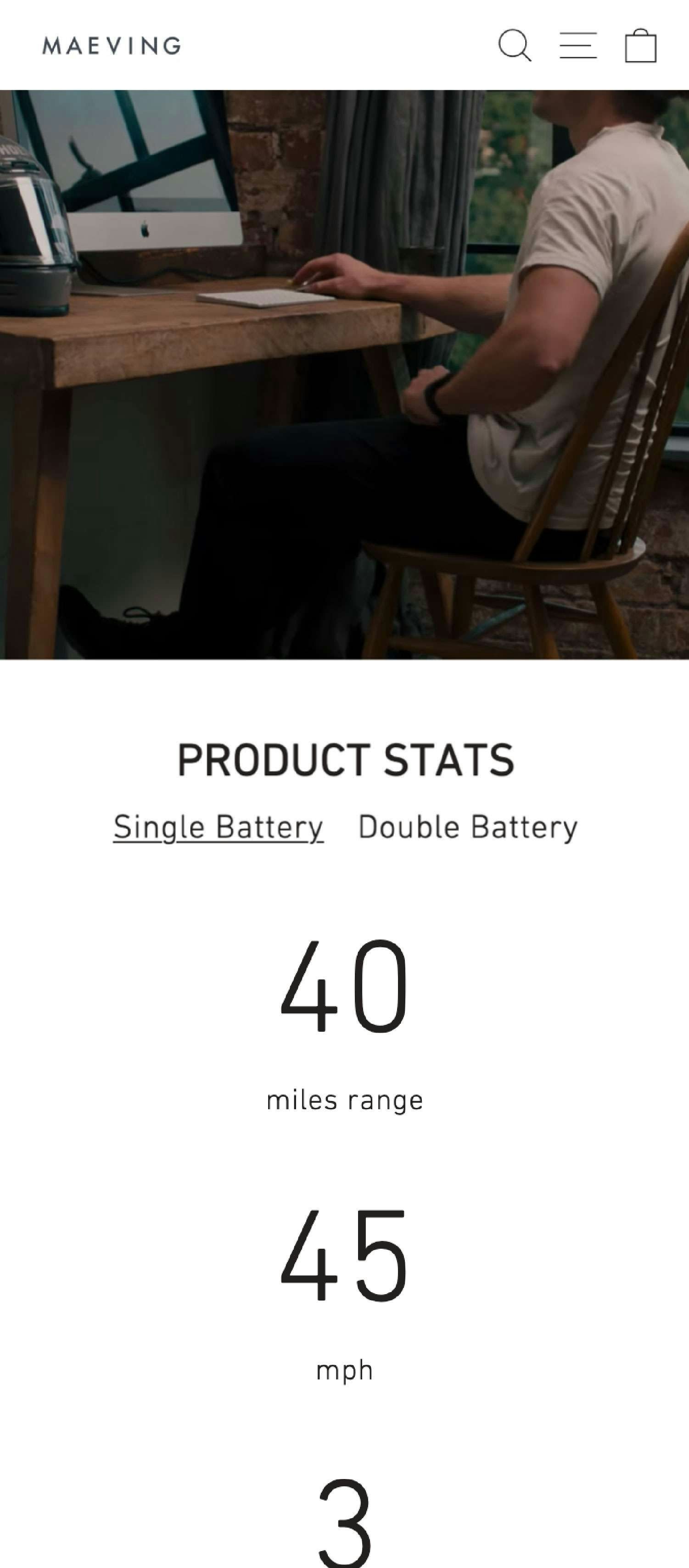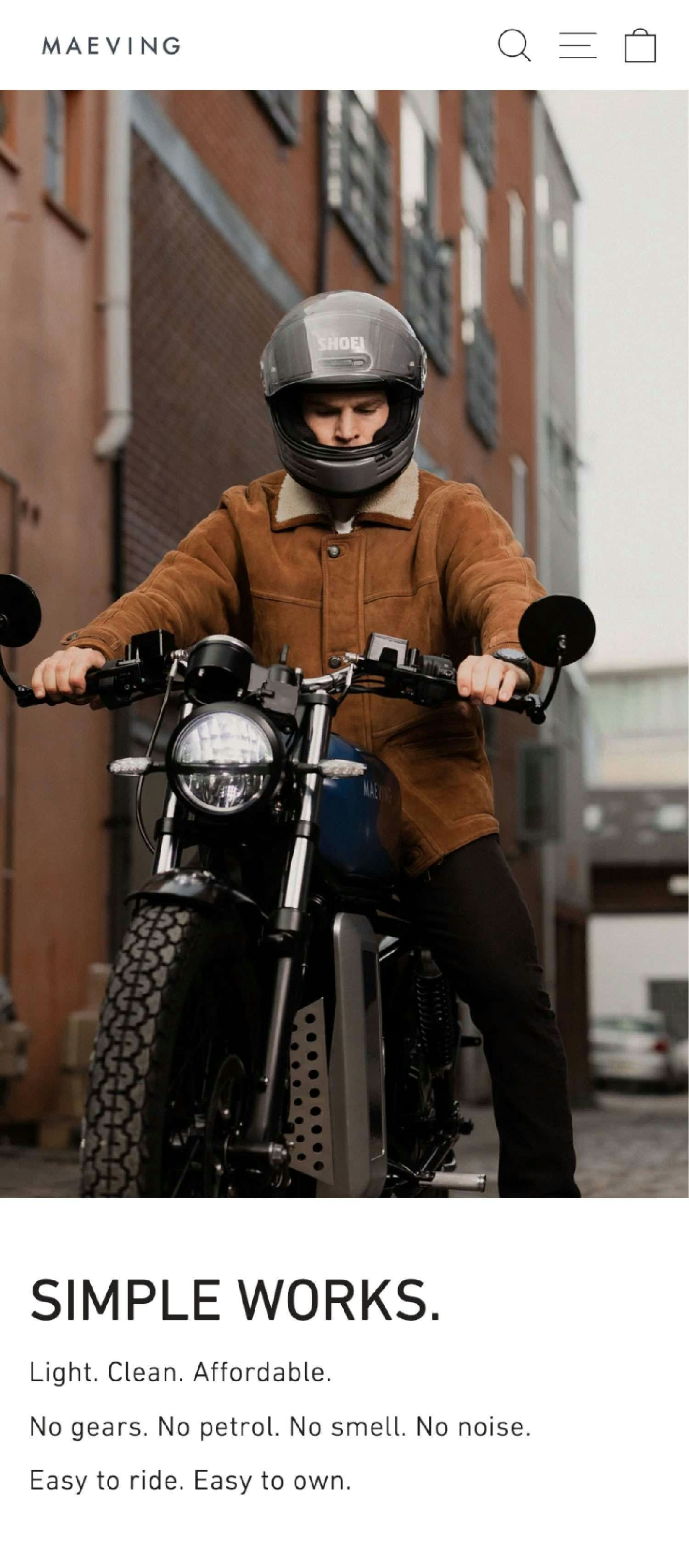 The project included: 
Custom page template development 
Multiple custom features 
A pop-up finance calculator 
Bespoke app development and integration with Black Horse
Find out more about Maeving founders Will and Seb, and a little more about their business too, in our recent Meet the Merchant feature.
Performance
Watch this space! We've only just gone live, with pre-orders being taken on Maeving electric motorcycles for delivery from November.
Offsetting
We offset the impact of every project we work on. On this project, through our partner Greenspark, we offset 1600kg of carbon and rescued 275 ocean-bound plastic bottles.