Brain food for Devs at Shopify Unite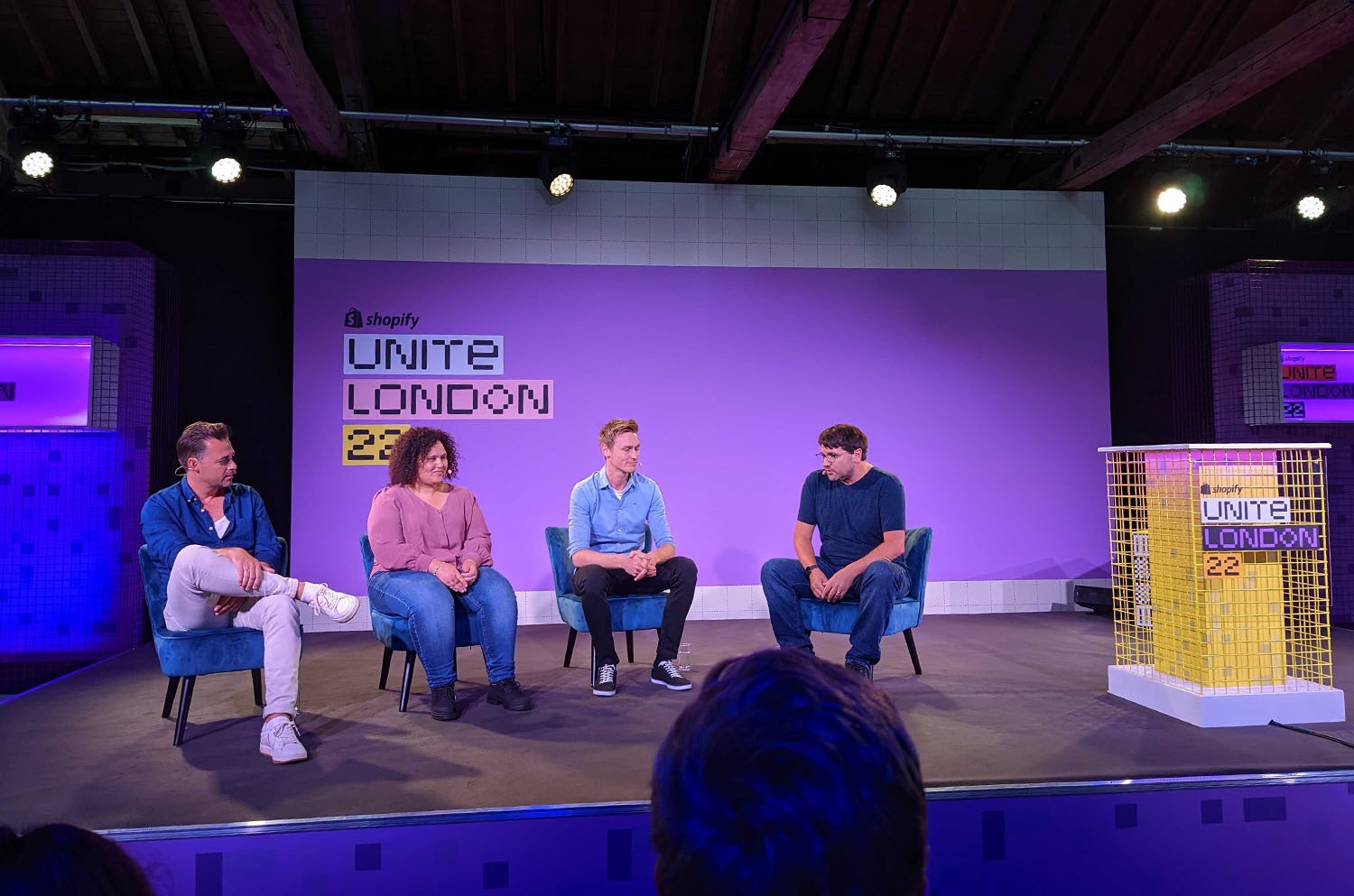 Earlier this month some of the team were at Shopify Unite. We enjoy getting out and about, learning from our peers and generally keeping up to date with trends in ecommerce so that we can deliver our clients the best, most up to date service. This is an important aspect of our business, we're always learning and stretching those brain cells! 
This annual developer-first event runs over two days and is packed with workshops and talks, given by senior developers, growth managers and engineers at Shopify. This year, they covered everything from headless storefronts to theme development, app building and checkout journeys. Here are some of my highlights.
A bit of history for you
The event took place at the Tobacco Dock in London. Firstly, it's a hella cool space and secondly, it's one of London's most historic commerce sites (fitting for an ecommerce conference!). It was built in 1812 to process wine, furs, molasses and tobacco arriving from across the world on cargo ships.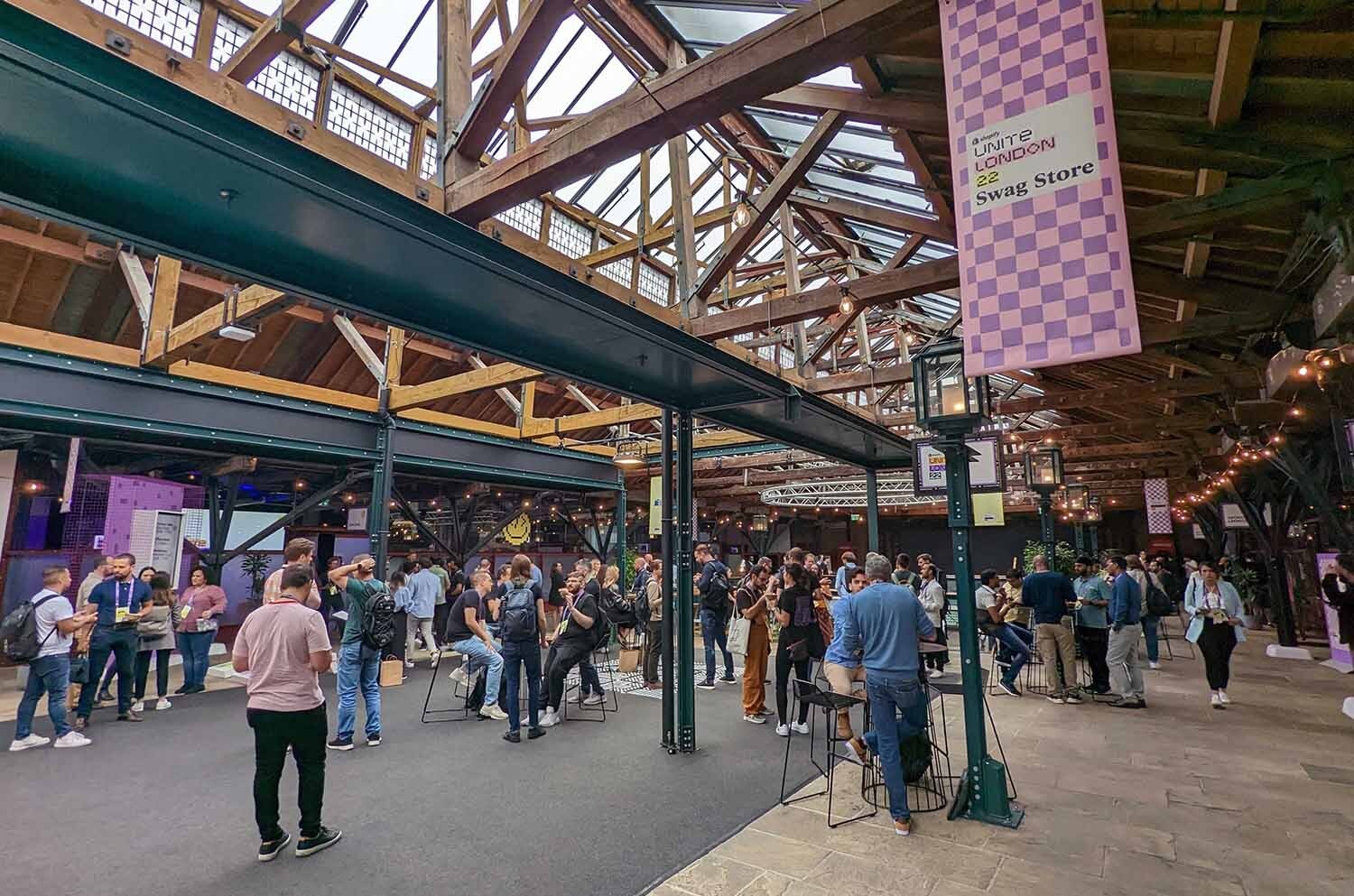 Workshop: Build a product page with Hydrogen
Hydrogen is Shopify's front-end web development tool which is useful when building a custom storefront. It's a react-based framework for headless storefronts and whilst this might not mean much to many people, as a developer working in this world, it makes perfect sense!
Scott Dixon (developer advocate at Shopify) ran the workshop and really knew his stuff. He showed us just how fast a product page can be built. The reason this is so useful is that it allows developers like me to spend more time on the custom (fun) parts with a lot of the basic work done for us. During the workshop we saw the build out of a product page and how fast and smoothly it can be done. I was really impressed and can definitely see a use for Hydrogen in the work we do. 
Talk: Building Powerful Checkout Customisations & Checkout Extensibility
 Building stores is our core business so this talk, about customising checkouts, was really interesting. Elizabeth Kenyon (developer advocate at Shopify) talked about the core concepts behind their checkout UI extensions and navigation and how these can benefit Shopify Plus merchants. 
She talked about checkout functions such as BOGOF, volume discounts and gifting - all things we've built for past clients. She also talked about customisations which are now easier for devs to work with, thanks to some changes to the code extensions they've recently made available. Again, really useful stuff which should help us make our clients customer checkout experience both easier and more profitable! 
Workshop: Effective ways to improve your online store performance.
Talking of profits, this guided workshop by Helen Lin (staff front end developer at Shopify) was really interesting. We took a break from the dev-heavy stuff to look at how modern browser technology and recent shopify features can help improve storefront performance. 
We spent time looking at how code can be used to improve site speed and user experience. For example, simple things such as properly sizing images and deferring offscreen images with lazy load are good practice. They can make a real world difference. Ensuring our sites have the best performance scores is always a priority for us and most of those we work with, so it's always great to see what latest tips Shopify themselves recommend.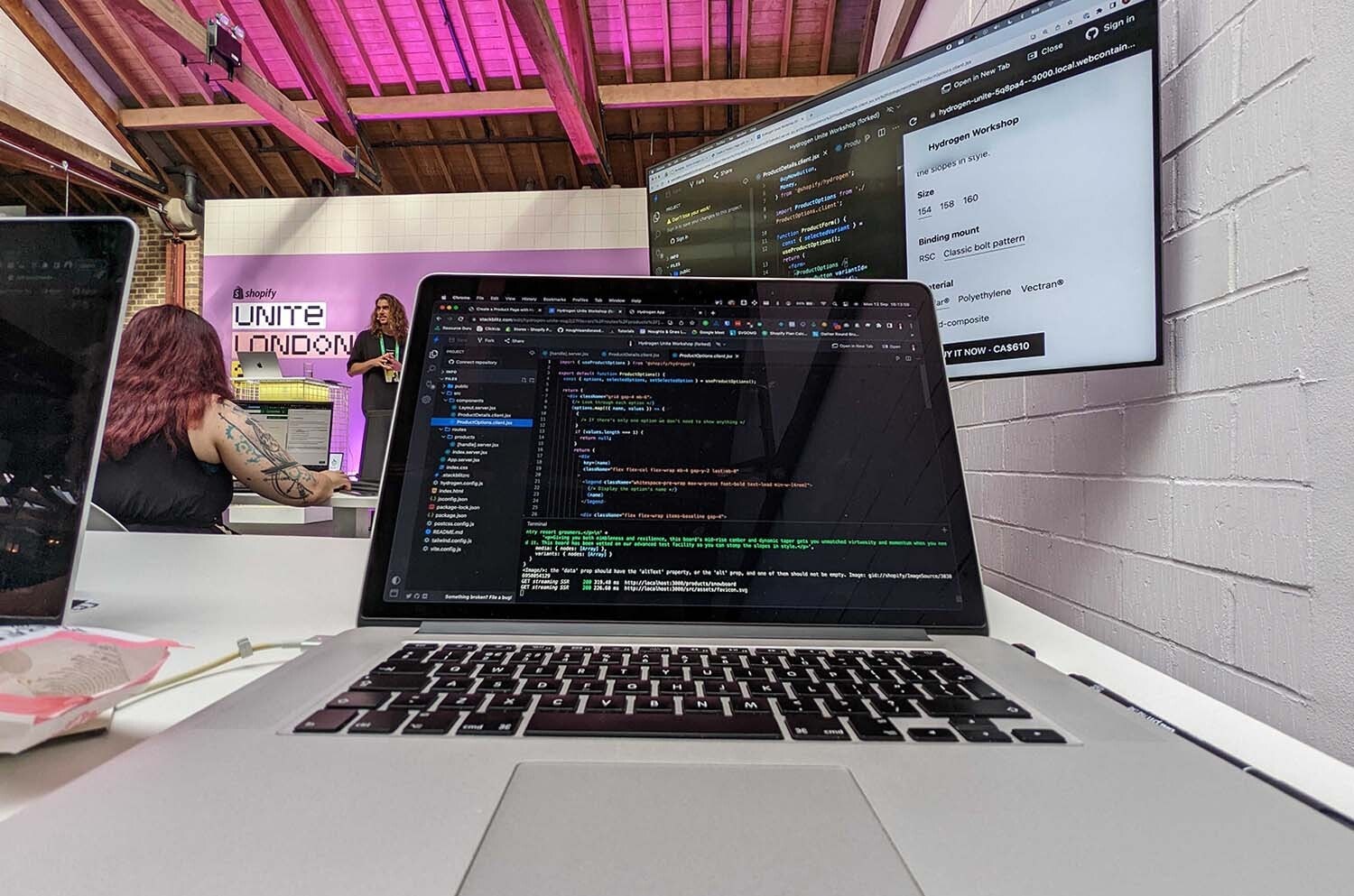 Development done right 
Currently, we're a team of four developers. Each of us brings something different to the table. For example, Giulia leads on the delivery of custom Shopify projects and is our resident Recharge subscriptions expert. Justin and Paul tend to work on theme-led projects and Justin leads on accessibility with Paul working on our Growth Partnership clients.  
We focus on conscious coding. Making it as efficient as possible in order to have minimal impact on the planet. We're constantly learning, looking for ways to shrink scripts, compress file sizes and set appropriate caching times (among other things) to make the stores we build as sustainable and performant as possible. Events like Shopify Unite are a great place to grow our knowledge and chat with like-minded developers!