A clever store for clever athleisurewear made from recycled materials.
Growth partnership
Bespoke theme design
Bespoke theme development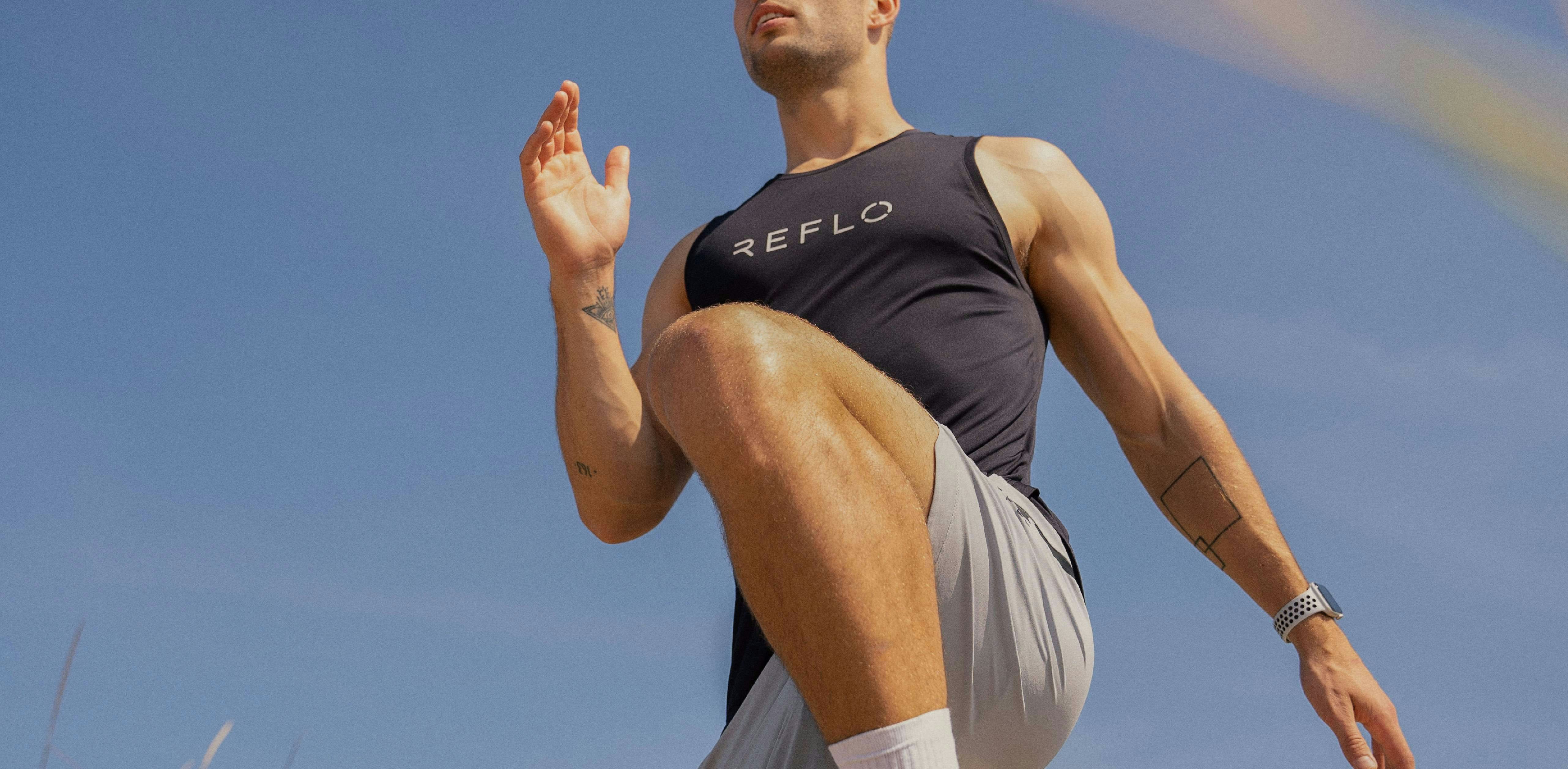 Reflo makes clothing from single use plastic waste AND coffee beans. Incredible right? They refer to it as future-proof apparel. Durable, sustainable and the product of a company which employs long-term thinking for the good of the planet. Their Active Regeneration™ process stands them apart from most fashion brands and every aspect of their business is designed to make a positive impact through concrete action. We created a site that sings from the same hymn sheet with our low-impact design and efficient code practices. 
Reflo initially came to us for a brand new Shopify design and build but we went beyond the basics to create a consciously clever store. We included real-time impact tracking, bespoke product pages and a sticky call to action bar. From the moment a customer arrives to the point they check out, Reflo's new site shouts their sustainable credentials from the rooftops.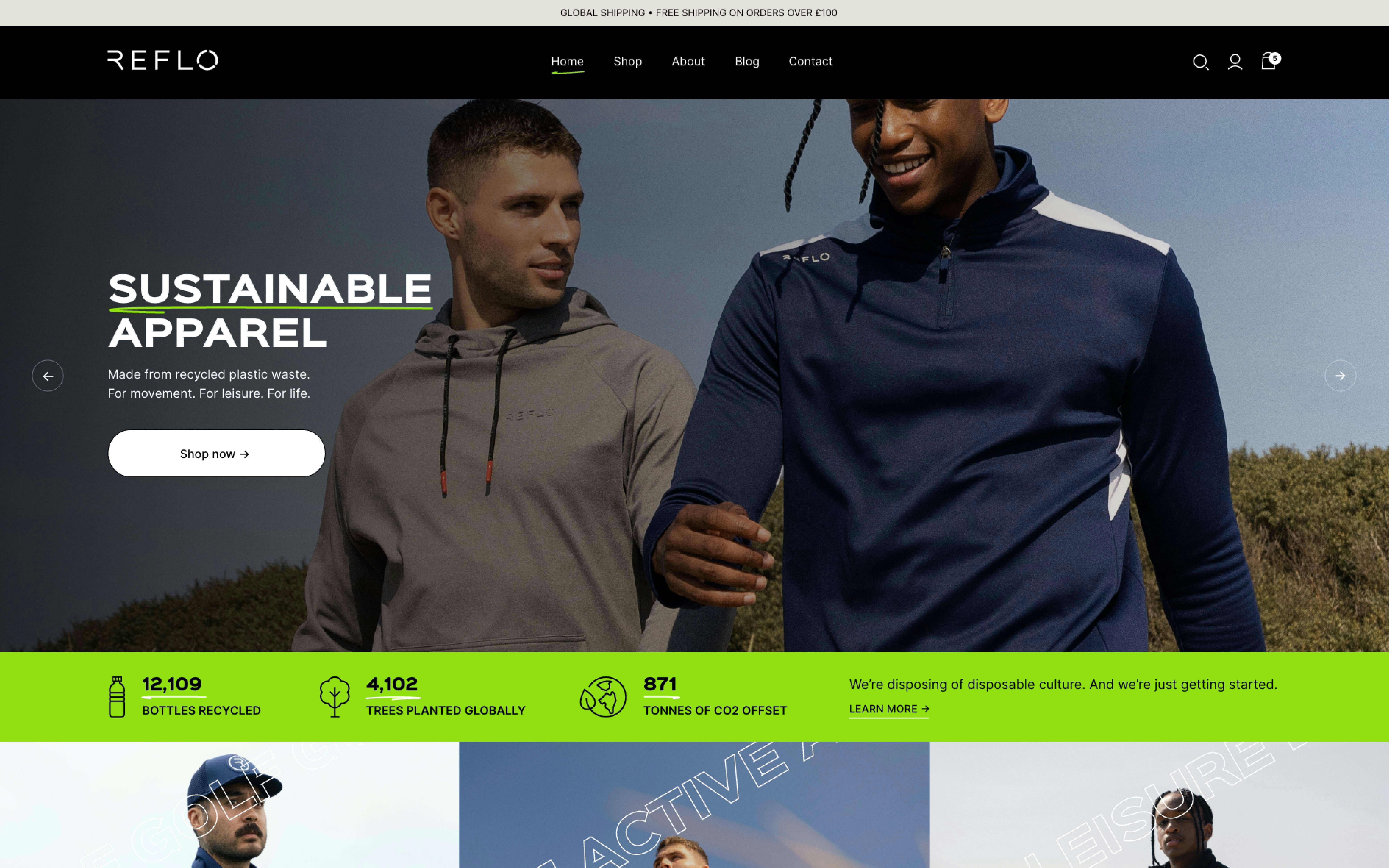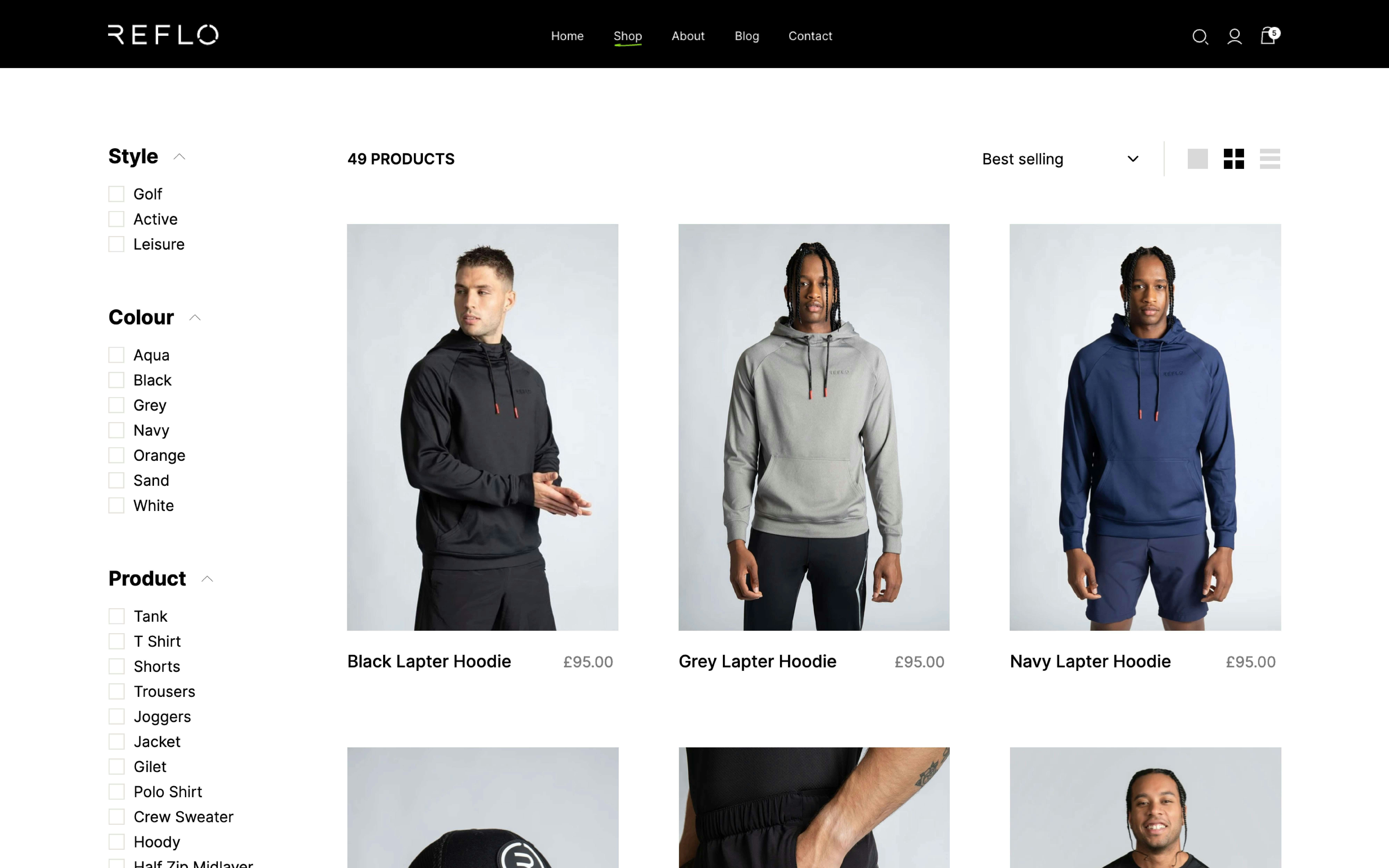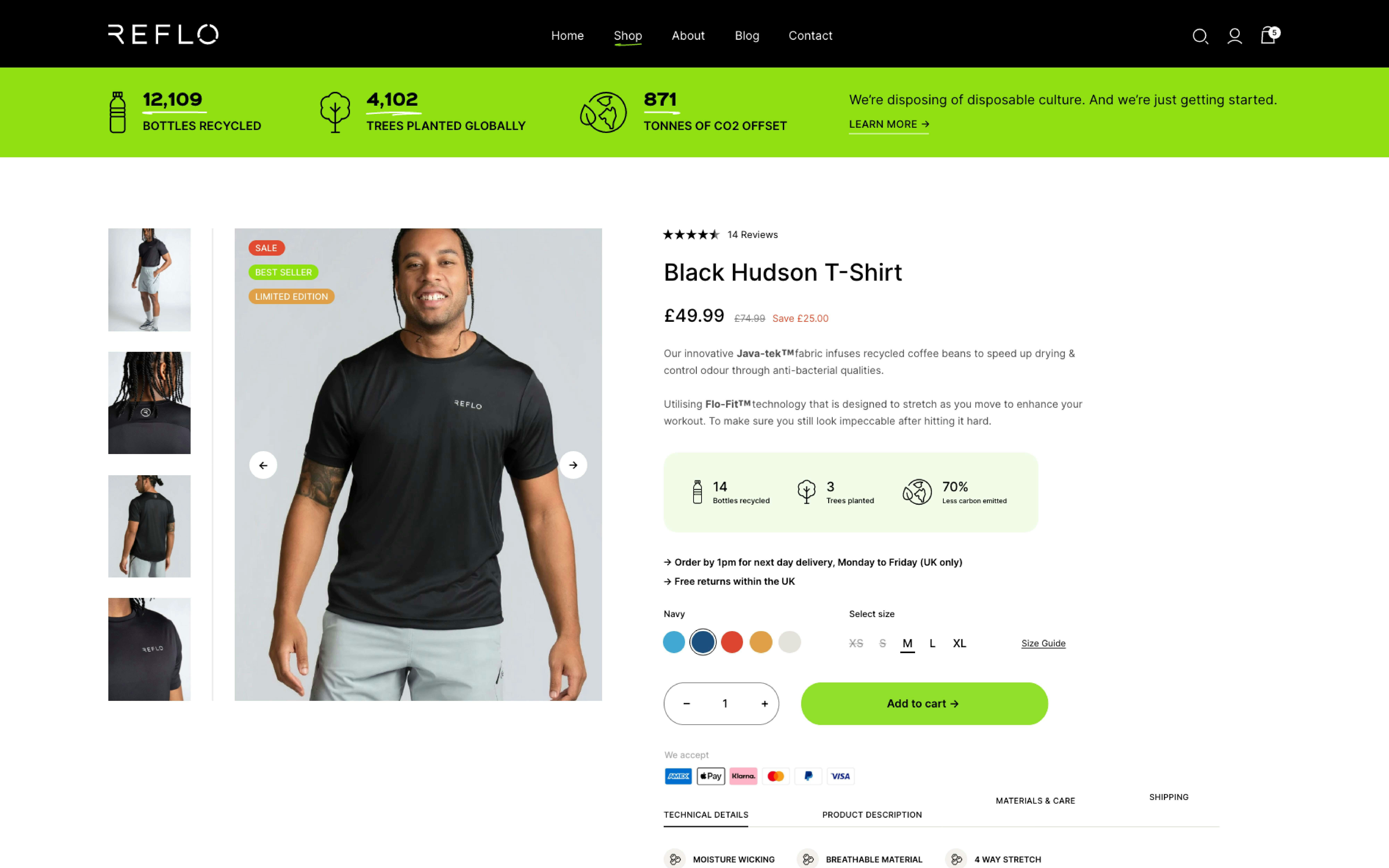 Let's take a look at the numbers...
0%

Conversion rate increase*

0%

More traffic from search*
Here's what we did
We created a Shopify store which showcases Reflo's athleisurewear catalog whilst also articulating their planet-first focus through great product pages, blog posts and a community section. 
At the heart of it all sits a bespoke impact-tracker. It shows plastic saved from the oceans, trees planted and carbon offsetted for every product sold on the site. To get everything working, we set up a private integration that syncs with their Shopify store's sales API to calculate the real-world impact . Not as simple as it sounds but something we'd love to build into more storefronts in the future. Pretty cool right? Take a look: it sits proudly on their homepage.
Reflo lists a lot of information about their products. This includes the usual stuff, plus detail on how they're sustainably manufactured. Because of this, we needed to make some changes to the standard Shopify product pages to allow for the additional information. Our Front End Developer Guilia did a great job on this pretty complex custom section development. 
For enhanced user experience, we built a sticky 'add to cart' bar on the product pages. This brings the checkout flow front and centre, meaning that on their longer product pages, a purchase can be made quickly and easily regardless of how far down the page the customer has scrolled.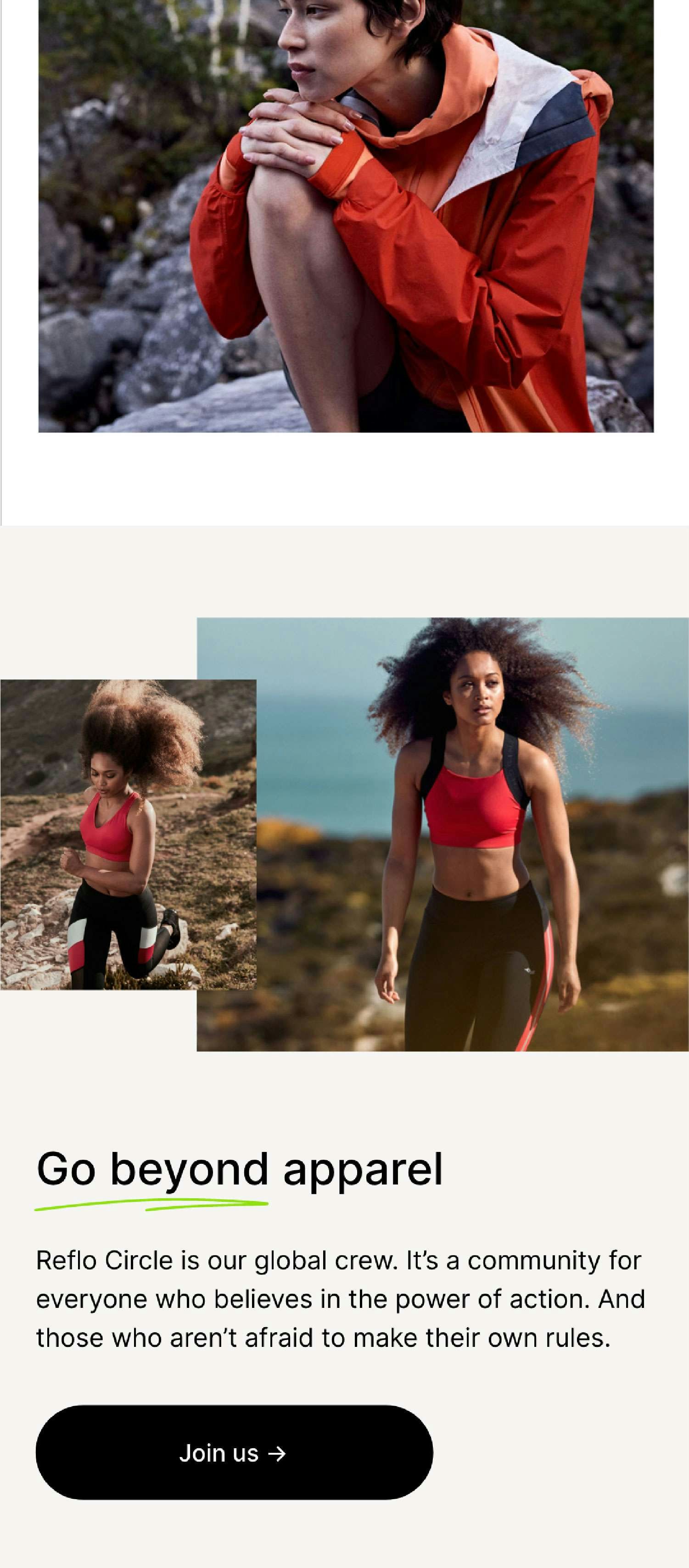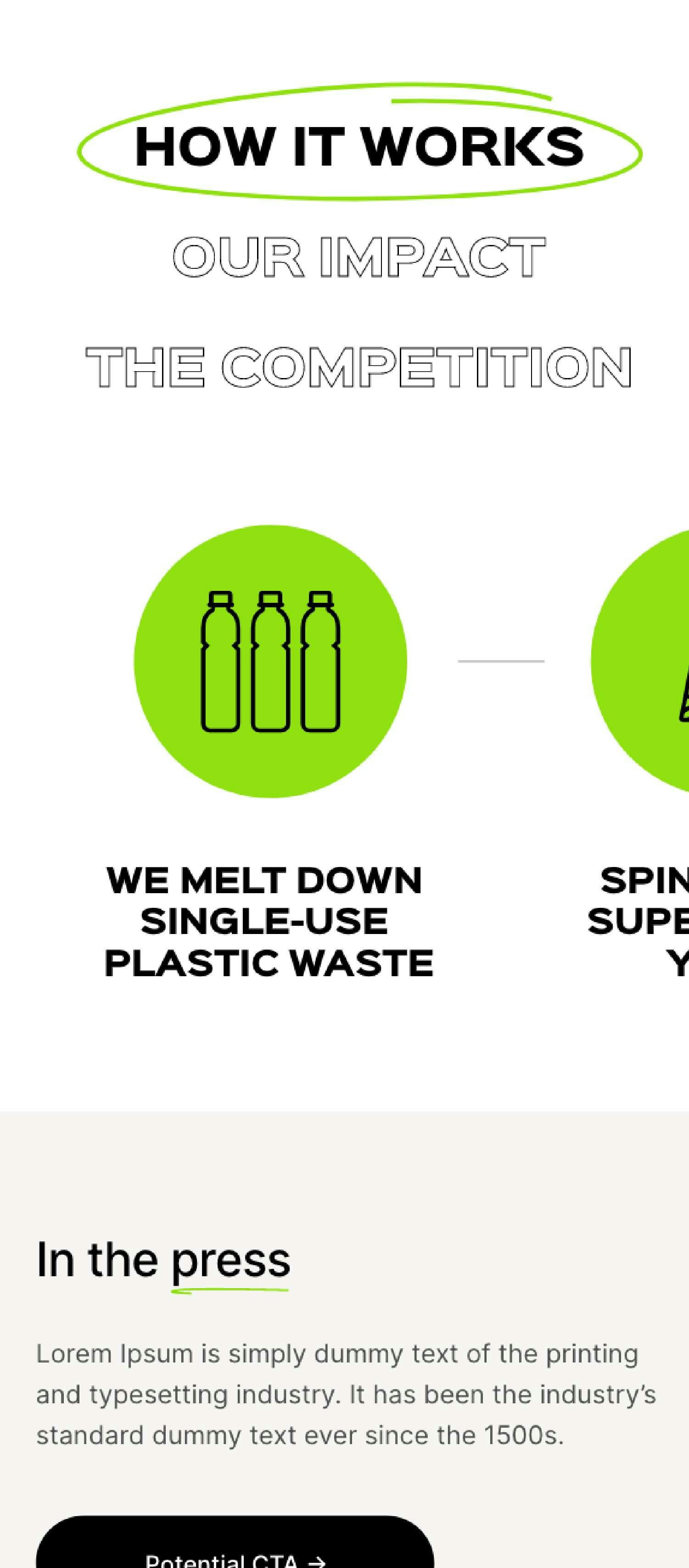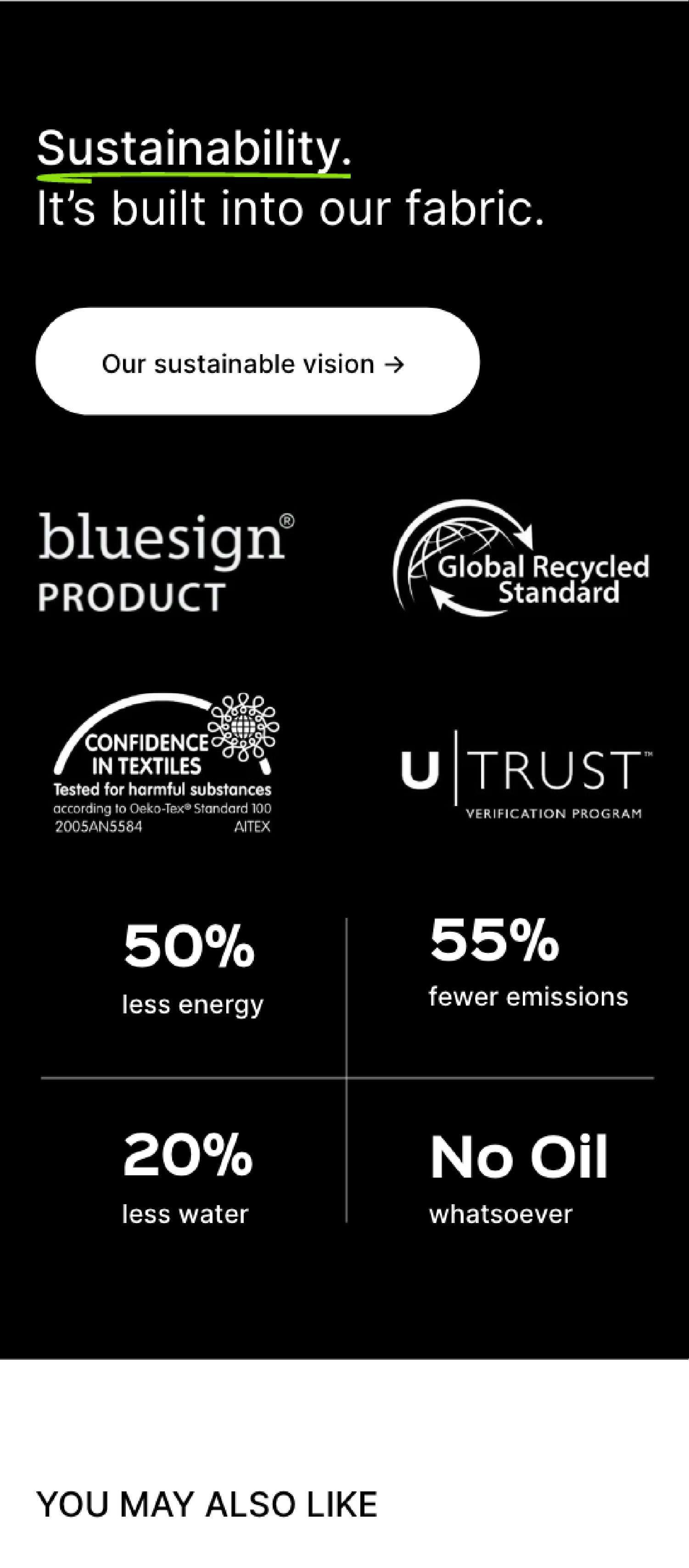 The finished store includes some really nifty elements:
Inventory-led live impact tracker 
Enhanced product descriptions
Sticky call to action bar on product pages
Collection-specific home page versions for marketing activities
Community-driven blog 
Campaign-specific landing pages

Planet-first design and build 🌏
We offset the impact of every project we work on.
On this project we planted 600 trees with our partner Ecologi. As well as this, the impact tracker on Reflo's new site showcases the offsetting they've done through sales of their athleisurewear. Just eight months after launching the site, they'd already recycled over 52,000 plastic bottles, planted over 6000 trees and offset 226 tonnes of CO2. Phenomenal. 
*Stats comparing previous six-month period (pre N&O). Taken from Shopify Partners analytics.